Backyard Putting Greens MA & NH
Custom Turf, Landscaping and Irrigation solutions for MA and NH
Celebrating Over 30 Years of Business!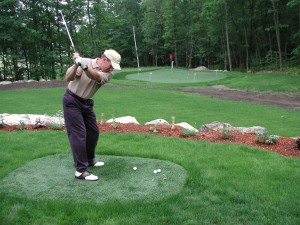 DP Turf is celebrating over 30 years in business!
The brother team of Doug and Derek Preston have led DP Turf over the past 30 plus years to the delight of many customers. They look forward to many more years of providing custom Turf and Landscaping solutions to their New England customers!
As of now Spring 2018; our schedule is filling up quickly and we are already starting and scheduling jobs for Spring, Summer and Fall.
We want to thank all of our customers for an amazing season in 2017. The Preston duo and DP Turf team have been scaling up this off season to continue to deliver custom large and small scale projects. DP Turf is recognized for their devout commitment to excellence and outstanding customer service.

DP Turf also has a new product to help cool off that hot synthetic turf in your playgrounds, parks, daycare centers, backyards and schools – The product is called HydroChill – CLICK HERE for more information on it!
In 2014; DP Turf – Southwest Greens premier supplier of synthetic custom turf had projects in Rye NH, Golf hitting cage with synthetic turf and two hitting mats at the Vesper Country Club in Tyngsboro MA and Hardscape and Landscape projects with walls, brick patio and a synthetic lawn installation in Andover MA – and may other unique custom turf and landscape projects all emanating from the areas experts in custom putting greens, backyard greens and landscape projects! Last season alone we provided service to clients in; Newton, Wellesley, Wayland, Andover, North Andover, Sudbury, Lincoln, Gloucester, Manchester by the Sea, Needham,Cambridge, Boston,Weston, Winchester, Lexington and many more throughout MetroWest and Southeastern MA.
Thank you for stopping by – for a quote please give us a call at 978.250.5996 or 978.392.1918 you can also reach us by email doug@dpturfma.com
If you would like to tell us a little bit about the job please CLICK HERE to fill out a contact form.

DP Turf is your source for Southwest Greens in MA and NH!
Thank you!
Doug and Derek Preston
DP Turf