Nylon Putting Greens vs. Polypropylene Golf Greens
D.P. Turf Helps to set the record straight on why the Custom Golf/Putting Greens are Superior:
Questions about the differences please give us a call:   978.250.5996 

The following post is republished from  Southwest Greens Ohio.
Knowing that different companies are utilizing different grades of products and there is a significant amount of misinformation on the internet, the below is an opinion-based synopsis from Southwest Greens International. It is not up to us to pass judgment on the competition's product selection, installation ability or company strategy. We can, however, speak intelligently about the differences in product and why Southwest Greens has an exclusive network of certified installation based franchisees worldwide.
CALL TODAY 978-250-5996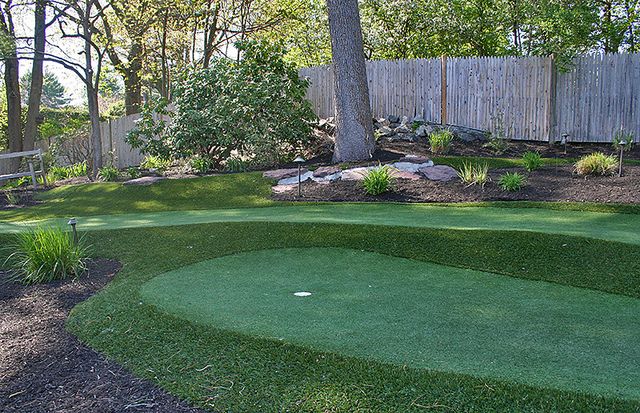 Nylon Putting Greens vs. Polypropylene Golf Greens
Polypropylene greens are very labor intensive with regard to initial installation, but all good things come with a dedication to high quality installs. More than likely, those companies not correctly trained in the installation procedures of a polypropylene surface, will have major issues due to faulty installations (i.e. incorrect in-fill and top dressing which will not provide true ball roll or will result in a green being grainy, etc.). Southwest Greens is committed to continuing to refine the installation procedures and R&D needed to continue to stay ahead of the curve. We have been fortunate enough to learn from our professional endorsees (which we do not pay endorsement fees to for them to say what they say) and listen to their expertise with regard to ball reaction and true roll of a golf green. Due to our performance and execution, they have given us endorsements based on the performance of their golf greens and we know they are utilizing them, as we service their needs regularly. A few items we stress to any homeowner are: for them to test all the products that different companies are utilizing, they should call existing clientele to find out how their experience was with the company that installed their surface and make sure appropriate insurance/licenses are presented before purchasing a synthetic surface. We recommend to all our franchisees to complete all three for a prospective client. Included are photographs of nylon greens that we have personally been asked to replace due to faulty installation and poor quality. Nylon greens are typically installed over concrete (glued down) or aggregate (held down by sand). Nylon greens are what are considered "putting greens" compared to the polypropylene sand-filled "golf greens." Every company, whether it uses nylon-based or polypropylene-based turf, has its "spin" as to why the product it installs is the best. We can't speak for our competition and we are sure their reasons are valid in their eyes, but from our experience nylon is not the ideal product for residential backyard settings. Let us explain why we believe that: There are three types of putting surface products available (The below 3 items of information are from our yarn manufacturer and our turf manufacturer – Challenger Industries): 1. Nylon • Easier to install – (which is why we feel most companies utilize it since they save on labor time and typically charge a cheaper price) • Inconsistent product aesthetic qualities (i.e., very streaky turf at times) • Not able to chip onto the green with natural ball reaction due to short length of the yarn fibers (i.e., pile height) • Expands and contracts over concrete • More expensive in cost (due to difficulty in manufacturing without streaky defects) vs. polypropylene turf 2. Polypropylene 5700 Denier • Harder to install due to more labor intensive than nylon • Sand – filled • Typically found in shorter yarn fibers (i.e., pile height) which limits the ability to chip on the green with natural ball reaction • Breakdown occurs faster with 5700 vs. 7600 denier • Less resistant to Ultra-Violet Ray degradation vs. 7600 denier due to 5700 denier being more thin in composition • Cheaper in cost vs. 7600 denier • Face weight is 30 oz., which is less than 7600 denier face weight of 36 oz. (makes it less durable) 3. Polypropylene 7600 Denier • Harder to install due to more labor intensive than nylon • Sand – filled • More UV resistant than 5700 denier due to the thickness of product • 7600 denier is the premier product for putting greens • Southwest Greens is one of the only companies that uses 7600 denier on ALL their greens • 7600 is 25% thicker than 5700 denier; the thicker the yarn the longer the life • Better performance for putting and chipping in a residential setting and target greens at a commercial golf complex due to the thicker blade of yarn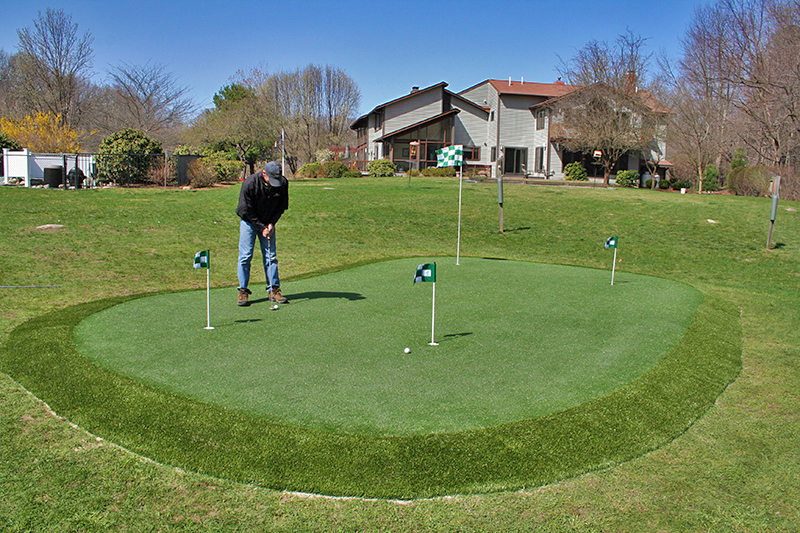 THE MYTH OF SAND-FILLED POLYPROPYLENE GOLF GREENS:
One of the major arguments misconstrued from competitors and misinformation on the internet against a sand-filled product, is that sand-filled polypropylene greens are grainy and require a lot of maintenance. If a sand-filled green is filled and rolled appropriately, as our certified installation-based franchisees are trained, that grainy statement is far from the truth, as our golf greens simulate bent grass and should putt the same speed from all directions. After all, since we do not pay endorsement fees, our PGA tour professional clients demand a golf green that will simulate a natural golf green in not only its natural reaction for chipping, but also ensuring the ball tracks 'true' in its roll. Our product and our company must perform. Secondly, whether a nylon or polypropylene surface, maintenance will be required due to dirt and debris. Speed can be controlled on a sand-filled polypropylene golf green, whereas speed can not be controlled on a nylon putting green. We see the maintenance portion of the business as not only another revenue stream but a great way to ensure client satisfaction and get more business. All real golf greens get top dress maintenance, so our artificial golf greens are no different. The difference between a 7600 denier putting green and a 5700 denier putting green is a very important distinction. When we asked our yarn manufacturer they stated it is a very simple analogy as it is the difference in building a house on 2×10's (7600 denier) and 2×6's (5700 denier), which is going to have the opportunity to last the test of time? They stated the 7600 denier should last the test of time in comparison to the 5700 denier. The 7600 denier is the premier putting surface yarn.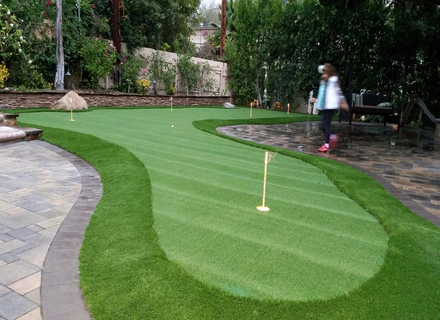 Why an exclusive system of Southwest Greens certified installation based Franchisees?
Southwest Greens was started in 1996 in Scottsdale, Arizona. Since inception, our company has been ingrained with a culture of dedication to high quality products and installation methods, which provide ultimate satisfaction among Southwest Greens' clients. Our products and installation methods have been refined and improved to what we feel are "best in class." We have made the strategic business decision to franchise our network of installers in exclusive protected territories. This allows us to maintain the dedication to high quality installations as we grow in size and scope worldwide and ultimately provide higher levels of client satisfaction among our entire system of franchisees. The only way to get the Southwest Greens product is through our system of franchisees. We have chosen not to sell turf directly to the consumer or directly to other businesses since we are not interested in attaching our name to below average installations should they occur. Moreover, our system of franchisees has secured strategic business relationships with contractors of various lines of business who understand the attentiveness to detail it takes to install a Southwest Greens product. They have chosen to refer their clients to our franchisees to give their clients what they feel is the best product on the market. We have been extremely fortunate in having the opportunity to call several PGA Tour Players, clients. We do not pay these individuals endorsement fees to say what they say. Furthermore, leading golf course architectural design company, Nicklaus Design®, has chosen Southwest Greens to exclusively offer a premium line of synthetic golf green designed by their firm (participation fee required for right to offer Nicklaus Design® line of greens). With our worldwide branding, commitment to high quality installations and relationships with our clients, our exclusive installation based franchisees protect our name and reputation in the synthetic industry.
Thank you for stopping by – for a quote please give us a call at 978.250.5996 you can also reach us by email doug@dpturfma.com